Third Cheetah Upgrade in a year for Exmouth Fishermen
Fishermen Gerald Statham and Mike Deem have been working their way through the entire Cheetah series. The two fishing partners originally bought a second hand 6.2m Cheetah at the end of last summer to see if catamarans lived up to their reputation compared to monohulls.
Within three months, they upsized to a 6.9m and placed an order with Cheetah Marine for a new 7.9m Cheetah. Gerald and Mike arrived at the Cheetah yard to collect their new Cheetah and drive her the 93 miles west to Exmouth. Both were delighted with the fuel economy of the 7.9m on the return voyage which averaged 18 knots at 3500 revs and used a total of 130 litres of fuel. Gerald comments 'she was absolutely fantastic, performed brilliantly especially when we encountered unpleasant seas off of Portland'
'Bluewater' will be used for commercial rod and lining with trips as far afield as the Channel Islands. Local fishing will typically be to wrecks up to 30 miles offshore and in Lyme Bay.
we were obviously impressed with the first 6.2m which is why we bought the 6.9m. We will be moving Shamrock down to Padstow where we also fish from. We are currently fitting baitwells, lockers and completing final details to 'Bluewater' to get her ready for the coming season Bass Fishing.

- Gerald Statham
The 7.9m features the long wheelhouse model. The wheelhouse is long enough to accommodate 4 anglers on a trip whilst also providing a good sized working deck. Top speeds achieved during seatrials from Cheetahs base on the Isle of Wight were in excess of 30 knots with good speeds achieved running at low revs. Gerald reports excellent fuel consumption figures with average usage of 84 litres over 50 – 60 miles.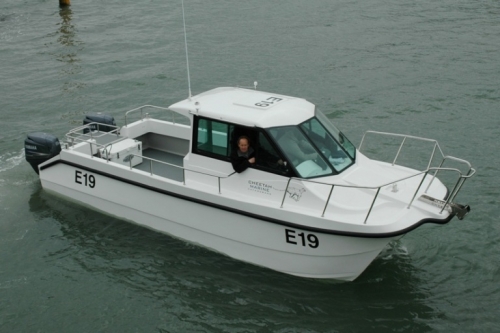 Statistics
Length overall
7.9m
Length excluding moulding engine pods
7.2m
Beam
2.7m
Wheelhouse Size
2.10m x 2.58m wide
Deck Size
2.70m x 2.58m
Gunwale height
0.70m