Cheetah Marine celebrate build of 300th Cheetah
Cheetah Marine's 300th catamaran left Ventnor Haven last week and arrived in Mallaig, Scotland four days and 700 miles later. 11.2m 'Carnach' was built for Rupert Soames O.B.E. grandson of Sir Winston Churchill and will be a lifeline to the Camusrory Estate which is 14 miles by sea to the nearest road.
Long range sea trips with the opportunity of extended fishing trips around the Scottish Islands and whale watching from the flybridge are planned for the future.
As with all the other 299 Cheetahs, Carnach was carefully planned with the ultimate use in mind. The massive deck space can accommodate all the supplies required by the estate with the 3.5m x 3.5m wheelhouse equipped with comfortable seating for passengers. The Cheetah will also be used for long range sea life safaris with the flybridge providing an outstanding viewing platform. The fuel tanks give a range of 300 miles at 25 knots. Twin 300hp Verado engines are fitted with controls and steering in the wheelhouse and on the flybridge. The engines are fitted with hydraulic jacking plates which control the height and trim of the engines.
The electronics package is very sophisticated with a fly-by-wire and electronic engine management system linked to the Simrad Navigation System. A Wallace D4 Airtronic hot air heater and demister provides warmth in the wheelhouse.
Carnach will be required to work on and off the beach so in addition to a Muir drum winch with controls on the bow and in the wheelhouse, an electric capstan winch is mounted on the platform between the engines and will work in conjunction with the drum winch.MCA coding is for ten persons to Category 2, sixty miles from a safe Haven.
At the end of the delivery voyage, Cheetah Partners, Sean and Lucy Strevens were able to get the reactions of the owner, Rupert Soames O.B.E., grandson of Sir Winston Churchill and CEO of Aggreko, world leaders in supplying temporary energy solutions.
"I chose a Cheetah because there are five very happy Cheetah owners within forty miles of Mallaig including the 7.9m which operates out of Kilchoan on Knoydart" he said. "We carry a lot of bulky loads. We must have space and stability and we cannot afford to get stranded in severe weather so outstanding performance in extreme sea conditions is vital."
"The build required considerable planning and attention to detail and the boat was delivered on budget and on the exact day we had planned six months before. This is a very rare thing in boat building. I was therefore hugely impressed by the management of the building project. The delivery voyage was absolutely fantastic and Carnach ran like a dream. In the Irish Sea there was a heavy chop which would have been quite uncomfortable in a lesser boat. It was a joy to discover that with Carnach, the faster you run, the better she rides and we ended up punching through it at over thirty knots. I am delighted with her"
For full story see our report at:
http://www.cheetahmarine.co.uk/en/news/view/cheetah_number_300_stationed_in_the_even_wilder_west/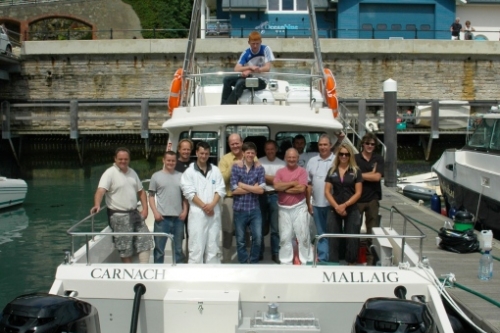 Statistics
Length overall
11.2m
Length excluding moulding engine pods
10.2m
Beam overall
3.7m
Draft hull only
0.40 min
Gunwale Height
0.70m
Engine power
2 x 300hp Mercury Verado
Wheelhouse size
3.3m x 3.5m
Deck space
3.5m x 3.5m