Seawork 17: Cheetah to assist in bridging Bangladesh
SEAWORK 17: 13th - 15th June, SOUTHAMPTON
Seawork 2017 will return for its third year to the prestigious location of Mayflower Park, Southampton for Europe's largest commercial marine and workboat exhibition.
This year at Seawork, Cheetah Marine will be exhibiting a hydrographic survey catamaran designed and built for SinoHydro, a Chinese Hydropower and construction company. The vessel itself, to be stationed in Bangladesh will be involved in the Padma Multi-purpose Bridge Project, the largest construction to date in the country which will ultimately see the south west linked to the north and eastern regions.
The Padma river is a high capacity and dynamic river with constantly shifting sand banks and islands. Extreme flow particularly throughout the monsoon season makes it difficult for even larger ships to make headway against the flow. Survey tasks undertaken by the Cheetah include depth sounding and current profiling. The 8.5m Cheetah features two mounting points for deployment of survey equipment, a sidemount for ADCP and single beam echosounder and the central moonpool for deployment of the widebeam MBES. Cheetah's patented Hydropod system accommodates the R2 Sonic 2024 transducer head.
This whole package twinned with the Cheetah's shallow draught of 0.5m allows complex surveys to be carried out in rapid flow shallow water zones with minimal crew. The system ensures high accuracy of the fixing position meaning that the system does not require recalibration after transit and is easily transported between survey sites.
Mercury 115hp engines power the vessel and a 3kva Honda generator provides the additional power required for onboard hardware and comforts. Stainless steel computer racking on rubber mounted rack supports were made in house as were the rails and gantry.
Following the show, the 8.5m will be shipped to Chittagong where she will continue her passage by road to Dhaka.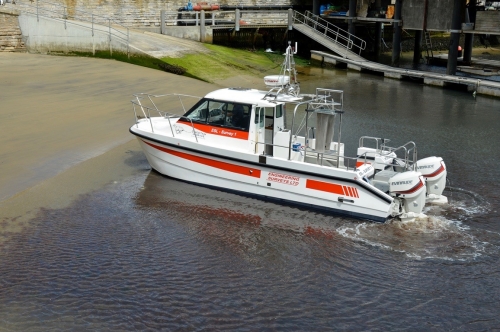 Statistics
LOA
8.5m
Beam
3.0m
Draft (hull)
0.30m (min)
Wheelhouse size
2.1m x 2.8m
Deck size
2.7m x 2.8m
Power:
2 x 115hp Mercury