Marine Vessel Efficiency Programme fuels exports
SOUTHAMPTON BOATSHOW 2017
Cheetah Marine is delighted to announce that Ruth McKernan, Head of Innovate UK, will be visiting the Cheetah stand M707 at Southampton Boat Show to launch Cheetah's new hull design. The advanced hull is the finale of an 18th month collaborative R&D Partnership with The University of Southampton and Cox Powertrain. Cheetah Marine's successful bid formed part of a Marine Vessel Efficiency Program.
Sean Strevens, Cheetah designer comments; 'Our project brought together diesel outboard technology from Cox powertrain, CFD and hull modelling through The Wolfson Unit, University of Southampton and Cheetah's 25 years of catamaran design experience to achieve amongst other things, a highly efficient hull which can be containerised for easy and cost effective international shipping.
In the future the design will be powered by the new COX 300hp diesel outboards, significantly reducing fuel consumption for the commercial and leisure user. The vessel on show is powered by twin 300hp Yamaha's and can run at cruising speeds of 18 knots under 3000rpm saving alot of fuel. The new owner is going into the charter market so running economy is high on the list.'
Innovate UK is the Government agency responsible for driving and part funding business technology projects to grow the UK economy. The projects are usually in competition form with the collaboration comprising of members from industry and academia which would not otherwise work together. Part funding reduces risk for partners who's projects show strong potential but are deemed too high risk to self-fund 100%. Creating collaborations pools resources and expertise which accelerates the new technology leading to a quicker route to market.
Looking forward, the design can be scaled up to produce larger commercial vessels which will run efficiently on the COX diesel outboards. There is also a future potential for a variation of the hull to be powered by electric outboards with re-chargeable battery banks.
"The project was a huge success for all the Partners. Together, we acquired useful data, tested ideas and developed a great product. Cheetah Marine has expanded with exports increased and jobs created."
Innovate UK Chief Executive Ruth McKernan said: "This is a significant milestone for Cheetah Marine and Innovate UK is proud to have supported this important project helping the company to innovate and grow. It highlights the strengths of UK marine businesses and the role they can play in developing the next generation of high-tech, energy efficient vessels for the global market."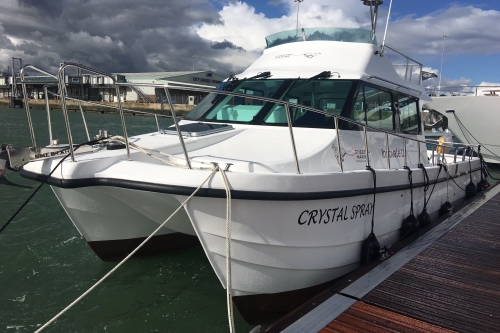 Statistics
MODEL
11.2m Flybridge
BEAM
3.7m
DRAFT
0.4m
GUNWALE HEIGHT
0.7m
POWER
2 x Yamaha 300hp